College of Southern Idaho Opens the Largest Zip Line Course West of the Mississippi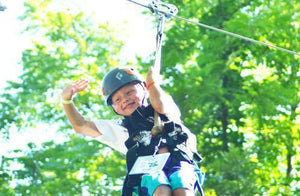 TWIN FALLS, Idaho. At the College of Southern Idaho they opened their first zip line challenge course to the public on Monday.
Officials at the college state that their zip line rope course is the "biggest west of the Mississippi!" The zip line is a whopping 250 feet long and is 55 feet high!
The college state that it "gives people a great opportunity to get out of their comfort zone."
"The whole point of the challenge course is challenge by choice and giving you the opportunity to challenge yourself," said Scott Rogers, the challenge course coordinator. "It's a safe environment and once you're in a safe environment you feel a bit more comfortable challenging yourself."
If you're interested they charge about $5 for two rides on the zip line.
Want to buy your own zip line online? Check out these zip lines.
Read the full story College of Southern Idaho Opens Zip Line Course.