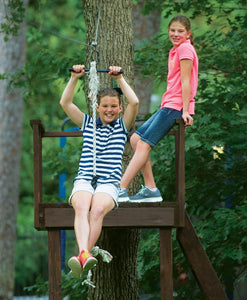 Tips on zip line safety for yourself and your family so you can fully enjoy your zip line!
You've heard it on the news, zip lines are dangerous... dun dun dun dun....but are they really? Zip Lines are only dangerous if they are not operated or installed properly. Some people think that they can just throw pieces of scrap together from their garage and make a zip line, or they buy a zip line that is cheap and it falls apart after a few months. People need to be aware of the possible dangers that do exist when it comes to zip lines. This is were the importance of buying a quality zip line come into play. Many companies manufacture generic zip line brands that are really just pieces of junk that are made to break after a few months. All these companies care about is the sale, not the consumer.
So how do you know if you are buying a quality zip line kit? Research. The two main competitors in the zip line market are Alien Flier and ZLP Manufacturing. These companies have shown their reliability through positive customer reviews, experiences, and their ability to maintain repeat customers. Alien Flier is more in the business for kid-friendly back yard zip line kits and accessories while ZLP is for the more advanced thrill-seeker with some of their cables selling at over 500 feet. That's a long zip line! 
Alien Flier's zip line kits have special safety features that enable stopping (at a children's level) a whole lot easier. They have different attachable harnesses as well that make the zip line convertible to whatever activity the kids might have in mind. Their design is strictly geared towards ease of use for the rider, which makes set up a breeze.
ZLP's zip line kits are for the more advanced rider. They are equally as easy to set up but are more easily customized to suit the consumers needs. They have the option to buy an assortment of different trolley systems as well as longer cable lengths than Alien Flier. They are generally not as portable either, and are manufactured to literally last a life time. 
Now that you know who the big dogs of the zip line market are you are more able to make an informed decision when purchasing the right zip line for your specific needs. Injuries happen when something isn't operated properly, the majority of injuries that have happened are because the installer did not secure the cable correctly (learn about cables here), they did not properly calculate the downgrade of the cable, or they didn't bother to install proper braking systems on their zip line.  As with any type of equipment it must also be properly maintained, you must routinely check the cable for fraying as well as double checking that your cable remains securely attached to the the starting and end points.
A Quality zip line harness is also a biggie. Always be sure that if you have children they are in a CHILD'S HARNESS. If they do not fit properly inside of the harness you must not find the correct harness that fits the specific height and weight of that child. Adult harnesses must be high quality because they are supporting more weight than the child's harness. Look for double stitching and strong carbiners, and I must stress this: Do not exceed the weight restrictions on A. Your Zip Line Cable and B. Your Harness. This will lead to serious injury or even death.  Most zip lines are rated for up to 250 pounds, anything heavier could snap the zip line.
After reviewing the best zip line manufacturers and some general safety precautions you should be well on your way to making an educated and informed decision on buying the perfect zip line to suite your needs. Zip Lining is fun, and it's an amazing way for kids to interact and experience the thrills of life in the safety of your backyard. Just remember, you can't put a number on quality equipment when it comes to you and your family!