The 411 on the Zip Lining Experience, Safety, and Braking Systems.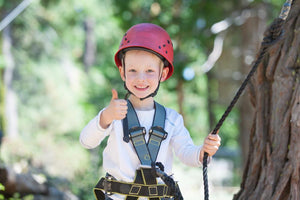 The Zip Line Experience
Zip Lining has provided the solution for many a thrill seeker who wish to experience the joy of soaring through air without parachuting out of any aircraft or bouncing on a bungee cord. The popularity of zip lining has grown tremendously over the past 20 years, becoming popular with people of all ages and backgrounds.

The site

ziplinerider.com lists more than 200 zip line courses

in more than 40 states. 

Zip Lines can be found in zoos, resorts, waterfalls, and now, in many people's backyards. The thrill of flying at roller coaster speeds at your own accord has peaked the curiosity of millions of people alike---- the demand for quality zip line parts and kits are at an all-time high. However, much like any recreational activity, operating a zip lines comes with hazards that may be minimized by sticking with safety protocols put in place by industry experts. Quality is an element that cannot be negotiated with for a cheap impulse buy when it comes to zip line kits.
Although zip lining sounds like all wind-through-your-hair amaz-ing experience, you do have to consider safety. There have been several highly publicized zip lining accidents that have put a bad stigma on the zip lining community. One including a death in Hawaii, and then another that included a mother that fell and was injured on a homemade zip line. Homemade zip lines are a recipe for a disaster unless you know what you're doing, that why there are websites like Zip Line Stop that supply zip line kits specially made for your backyard. Buying a zip line for home doesn't have to be complicated... They also come with easy installation instructions which make set-up a breeze for the mechanically inclined. Zip lines must be anchored on two tall sturdy points, say, a tree house and a neighboring tree with a platform. The whole process is super easy and it's always a hit with the kids.
Kids operating your zip line should also be a motivator for safety, and avoiding accidents should be your main concern during installation. This is why anyone who plans on zip lining, especially on their own custom zip line, must take the proper precautions and wear the appropriate safety gear. This includes a safety harness, and/or a helmet. The zip line harness is clipped onto an overhead cable that guides the participant down the ride.  The rider should always inspect the harness for wear and tear, and always buy a quality harness.  Zip Liners should be sure to wear comfortable clothing and to also remove any dangling jewelry. Another safety measure that should be implemented is to have your launching and landing platforms encased with railings. Many riders love the exhilaration of the ride, but do not like the heights. When the railings are in place they give the rider a level of security that they wouldn't have if they were just standing on a platform in a tree.
                Cool, I Set Up My Zip Line, Now How Do I Slow Down?
Many zip lines have hands brakes that allow the rider to decelerate before they reach the landing platform. The rider has more control over the experience using the brakes than any other stopping method on the market. Brakes are fairly inexpensive and should be a necessity when ordering parts for your zip line kit. One of my favorites is the Zip Line Trolley Spring Stop Brake found here .The brake is made from powder coated steel, and has heavy duty recycled plastic ends that are secured with clamps for major durability. It's definitely worth checking out, and worth every penny. The Zip Line Blog also has tons of information on zip lining and other info you may need to get the show on the road. Happy zipping!