What zip line kit is right for me?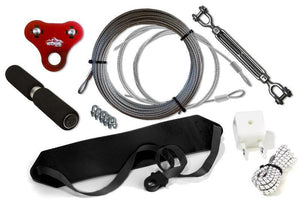 When choosing a backyard zip line kit it is best to consider all of the different options for your specific need. For example, if you're looking for a zip line for very young children, a zip line for adults, or possibly even a zip line to stretch across a waterway. I'll help narrow down what you need.
Our most kid-friendly zip line kit is the Alien Flier Series.
These zip line kits are manufactured for the ease of use for children and even include a speed control trigger on the trolley to slow the rider to a stop if they're feeling like they are going too fast. It also comes with different attachments that you can buy separately - the harness, disc seat, and swing style seat.
These can easily attach and detach from the trolley using the adapter at the top of nylon straps, this is helpful because if you can children of different ages that require different seating arrangements you can quickly attach them to the trolley with no difficulty. For younger children, I recommend the harness because it secures the children so that they can't fall out. The disc seat and the swing style seat are great for older kids because they can sit directly on it, hold onto the trolley and use the zip line. Younger children may or may not be able to use these, it just depends upon their dexterity. The Alien Flier zip line kits are also cool because they use a ratchet system, the EZ Up Solo Kit to tighten the zip line.
This ratchet system makes it super easy to set the zip line up, most of the time in less than a half hour. It also comes with tree protecting pads and webbing as you can see below that protect the trees from damage.
The only thing with this zip line is that that there is very little room for customization as there is with the ZLP series, you can also take them down in the winter if you'd like. The 100' kits come with 3/16" zip line cable and can withstand 250 lbs, while the 150' and 200' kits come with 1/4" cable and can withstand weight up to 275 lbs. There is also a budget kit version of this zip line that does not include the ratchet system. It's quite a bit cheaper but almost just as easy to put up.
The only difference is that it uses turnbuckles to tighten the zip line rather than the ratchet.
Then there are cable free kits that you can buy if you already have a cable or choose to buy a heavier zip line cable. They're pretty inexpensive as well and include the ratchet system.
If you're going to buy your own cable all you'll need is the cable and 6 cable clamps to secure it, the clamps just have to be the same size as the cable that you're purchasing.
The ZLP Zip Line Kit Series is geared more towards older kids, teenagers, and adults. They are built to withstand insane weight limits at up to 350 pounds. 
When ZLP first launched their line of zip line kits they were originally manufactured to withstand weight when installed across canyons, they were for extreme zip line enthusiasts. But they instantly became popular with those who wanted to install serious zip line kits in their backyard. These kits work for kids great but are definitely meant for older kids unless you pick up the kit with the harness in it. They also require a tad bit more know how to set up, although they can be successfully set up within about 45 minutes. They allow for a lot of customization and you can buy many different trolleys and seating arrangements.
As you can see, the sky is the limit for customizing these kits. They are also more permanent, once they are set up they aren't worth moving - but I guarantee they will literally last forever. They also allow for you to customize the braking method as well. The ultimate kit comes with the typical brake block and bungee but they also off the ZLP Spring Stop with uses a spring to slow the rider.
They have become increasingly popular because they don't require the use of bungee cord, which is pretty much just up to personal preference. Although these kits do run a little bit more expensive, it's worth the money - especially because all of the kits contains 5/16" cable and come in sizes up to 500 feet in length. 
Well I hoped this helped make up your mind, if you have any questions don't hesitate to contact us at info@ziplinestop.com