Schools Almost Out, Whats Your Plan? Backyard Zip line!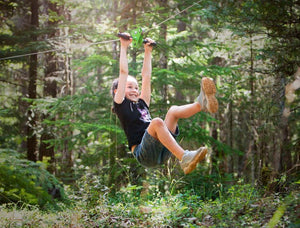 You know the time is here, it's hot out, the kids are about a week from being out of school...you need a strategy to keep them busy. I have the answer- a backyard zip line. Kids need to be active and play, they can't be cooped up inside watching re-runs of Sponge Bob all day. On top of that, you know they'll be whining about how boring your town is, how little Bobbie down the street can't come and play because he's grounded, or that your dog just ate his tuna fish sandwich. Forget all of this!
Backyard Zip Lines are super easy to install and I'll be you that your grand-ma could do it. Kids love them and it will become the main attraction in your neighborhood as soon as the trolley hooks to the cable line, I promise. Your kids will thank you!
If you have any questions about zip lines you can see my other blog posts or check out www.theziplineblog.com
Have a safe and Happy Summer!